Finally the pictures are ready to be posted. Below are some selected pictures and stories of the much awaited LKG's Thailand fishing adventure. Enjoy!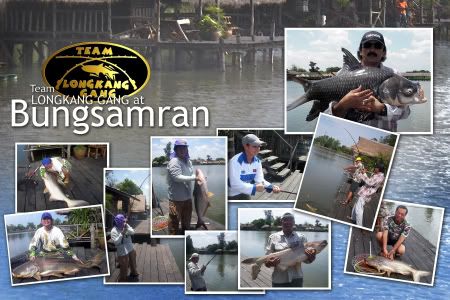 Arrived at Bangkok: 12th April 2006
Fishing Date: 13th - 14th April 2006 (Bungsamran, Bangkok)
Shopping Date: 15th - 16th April 2006 (Siam Paragon, Chatujak, Maboonkong, Pratunam, Gaysorn, etc)
Massage Date: 16th April 2006
Departed from Bangkok: 17th April 2006

Species available in the pond: Pla Buk(Giant Mekong Catfish), Pla Sawai(Patin), Pla Coho(Giant Siamese Carp), Pla Tepa, Pla Katiam(Lampam), Pla Chon(Haruan/Snakehead), Arapaima, Pla Taptim(Tilapia) and Pla Mermaid Kekekeh


Species LKG caught: Pla Buk, Pla Sawai and Pla Coho.

Quantity of fishes landed: Countless!


Buying BTS Sky Train ticket to Siam Paragon fashion complex for dinner on the first night of arrival(p/s: A lot of tall beautiful sexy models can be seen at this shopping complex
)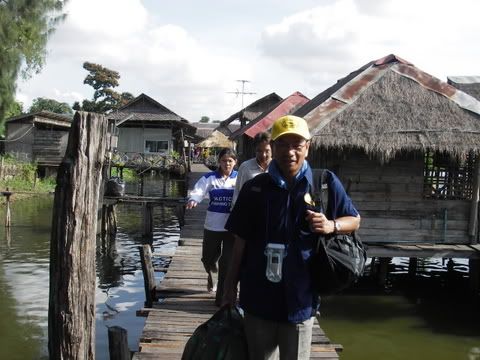 Hurry! Hurry! Let's go to our chalet! The fishes are biting!! Wildboar, hold your gf's hand lah. Look at her, almost fall down to the water.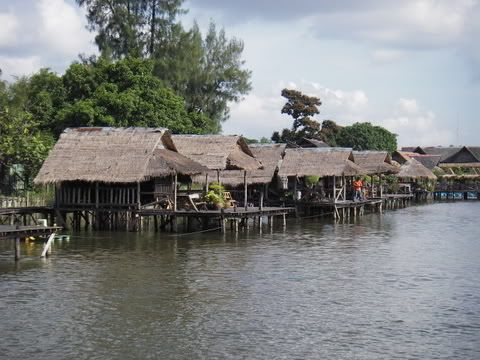 A view of our neighboring chalet which are smaller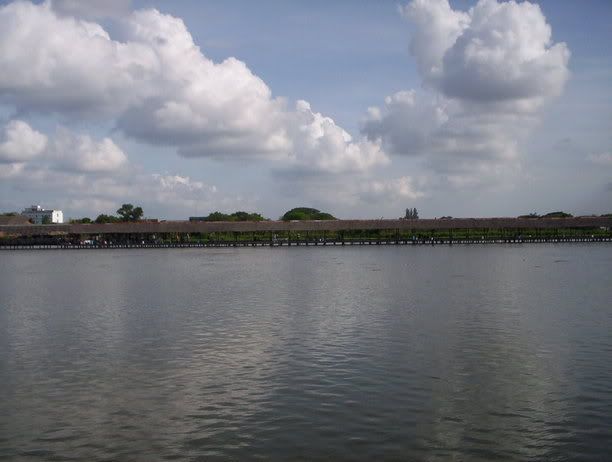 A view of the pond and public fishig area at the opposite side. You wouldn't wanna fish there, can't imagine how it will look like when your monster fish crosses everybody's line)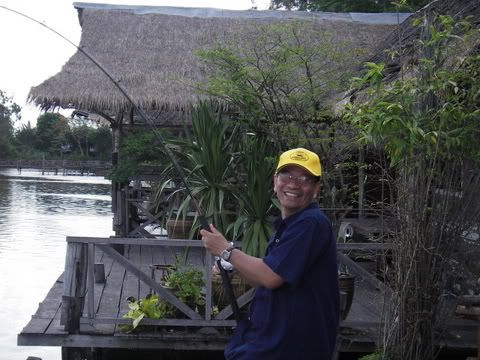 Fish ON! Fish ON! Tiger smiling happily away as he got the first fish of the day!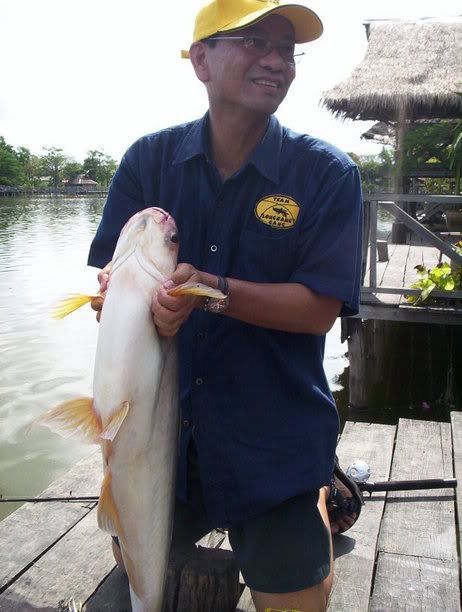 Tiger! Yoohoo! The camera is here! Where are you looking at? Pla Mermaid arr?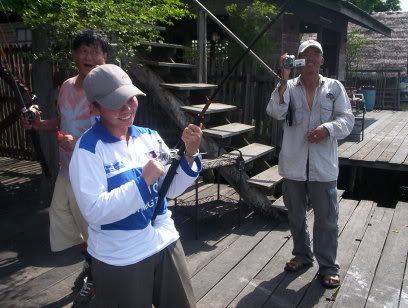 Wildboaress, please concentrate in pumping your fish! Your Wildboar boyfriend is filming you!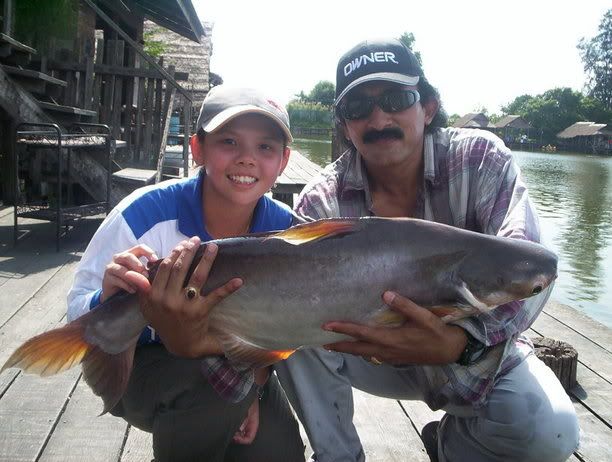 Not bad! Not bad at all! Considering such a small petite lady who can haul up such a big fish.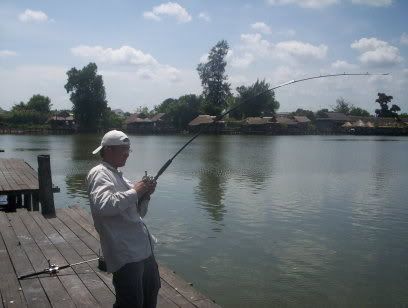 Wildboar: Let me show my girlfriend how a real man do it!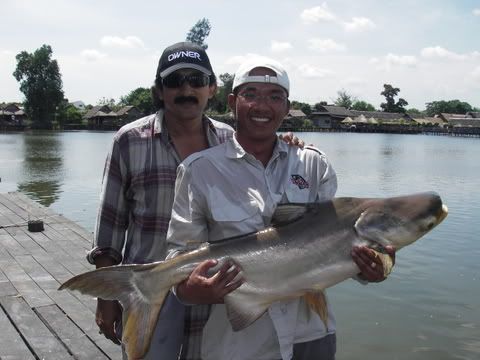 Wildboar: This lah is what I call a big fish, am I macho or not honey?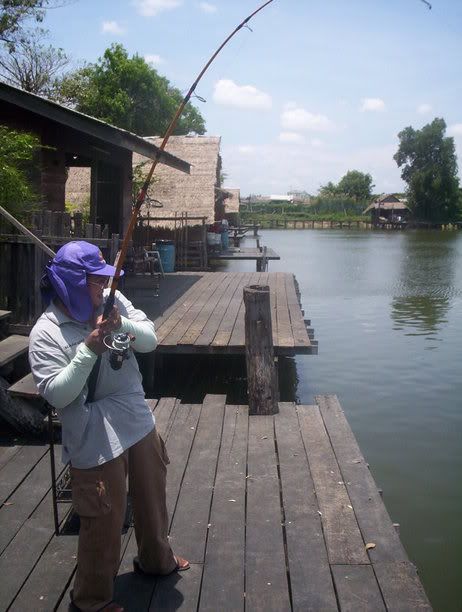 Go Sally GO! MFN fans shouting for you back in Malaysia! Go! Go! Go! Ole! Ole! Ole!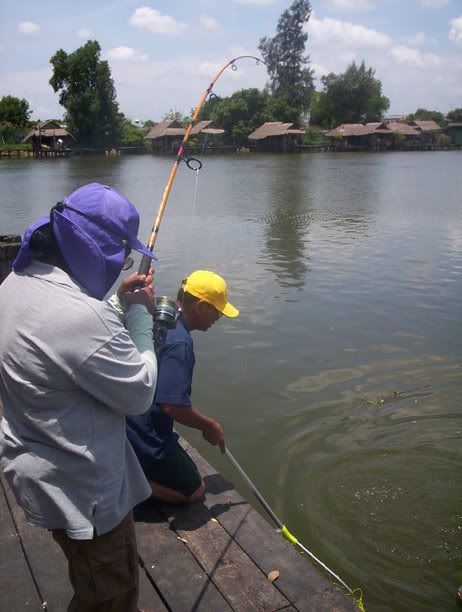 Tiger: Come, let me help you to net it up fast. Scared the fish pull you into the water.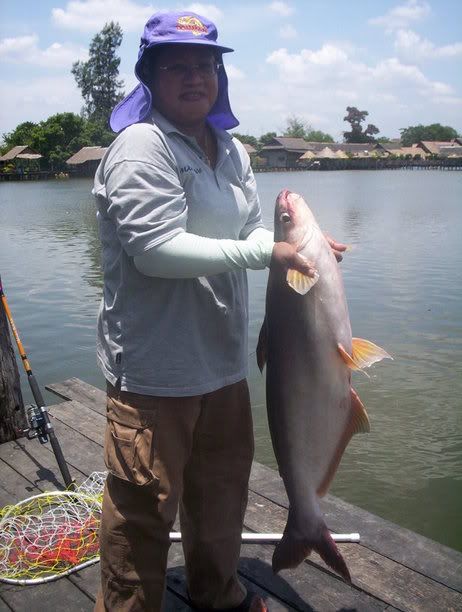 Bravo Sally! Bravo! The Heroine of LKG!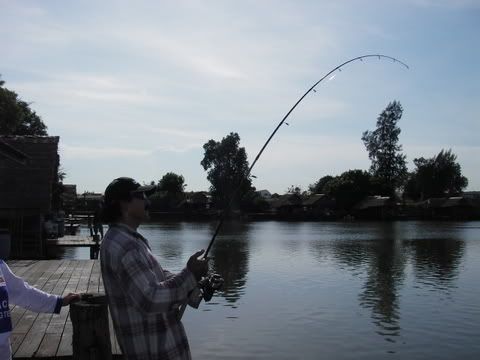 Lannun: Hmmmm, this bugger wanna pull my line until Singapore arr? Must be a big bugger!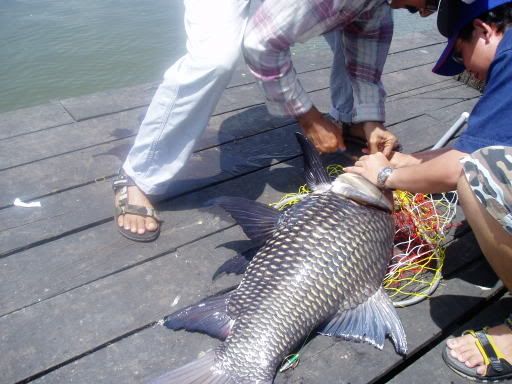 Lannun: Whoa!! A Pla Coho!
Jeymatt: Come come, let me help you to unhook!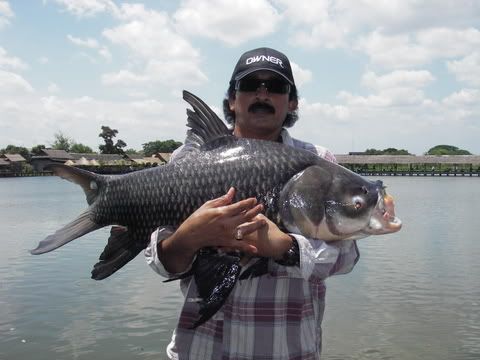 18kg Pla Coho aka Giant Siamese Carp!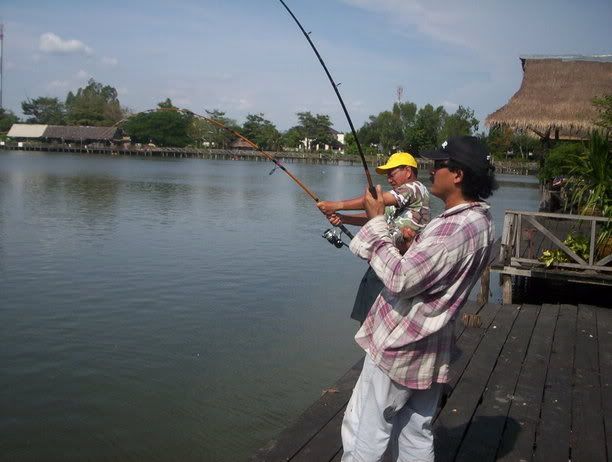 Double Hook-up!! Tiger Roaring away! Lannun Slumber only seeing his line pulling away far off!
Another Double Hook-up! This time Lannun with our Thai LKG member Ah Ut.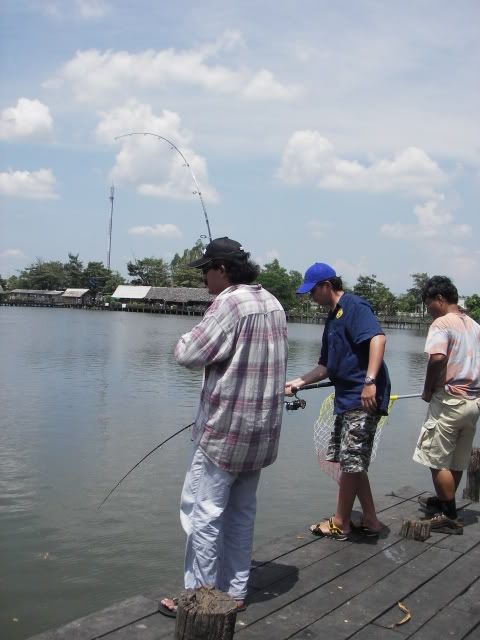 AND Another Double Hook-UP for the 3rd time!
Jeymatt: Lannun, why you always change lover wan arr? Just now with Tiger and Ah Ut and now with me. Wildboar you not interested coz he brought wildboaress.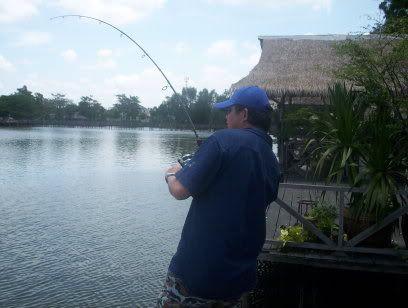 My turn to action! Save the Best for last!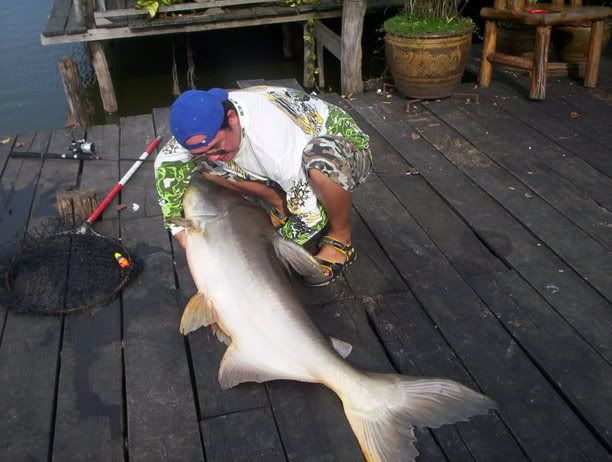 Whoa! Why are you so big and long? Just like me ler hehehe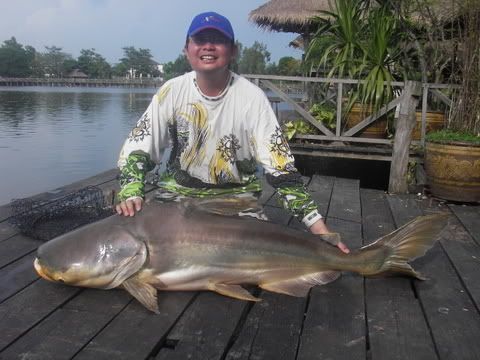 I cannot carry you up lah, you are even heavier than my fiancee!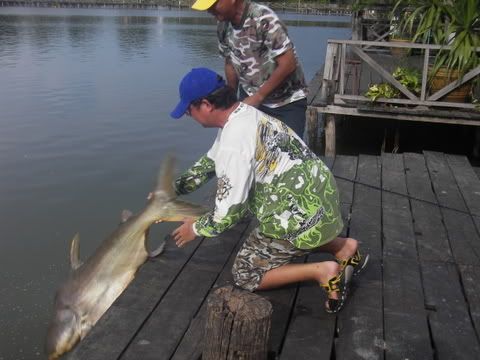 Thanks to Tiger for helping me to push this beautiful monster back to the pond. Hands still trembling ater fighting the record fish for 20 minutes.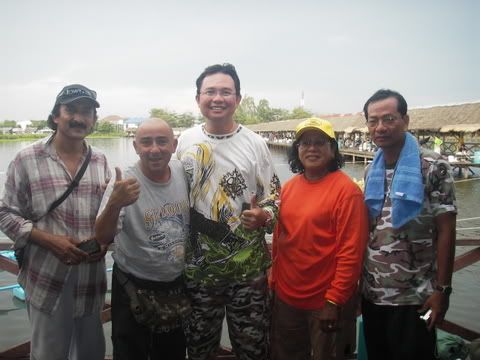 Team Logkang Gang with the famous Jean-Francois Helias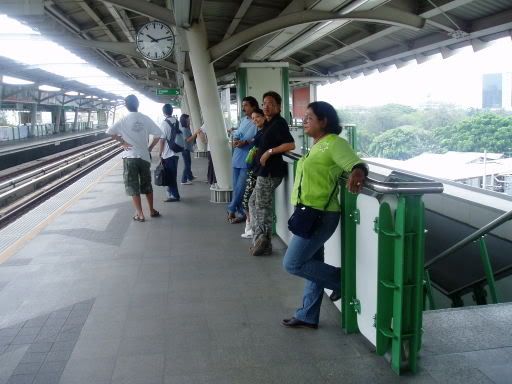 After 2 days of fishing, time for shopping and jalan jalan using the sky train.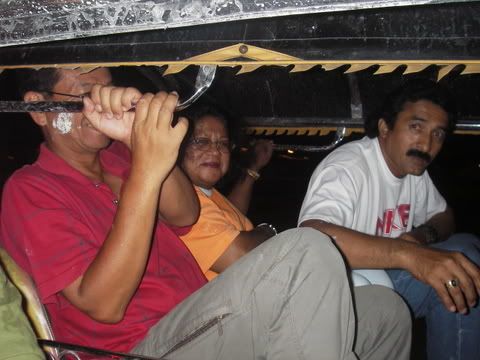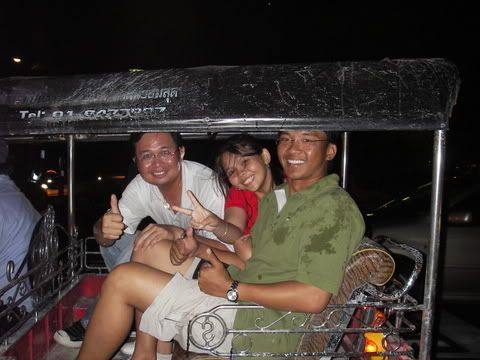 On a Tut-Tut on the way to Khaosanh Street for dinner. Taxi doesn't wanna bring us there.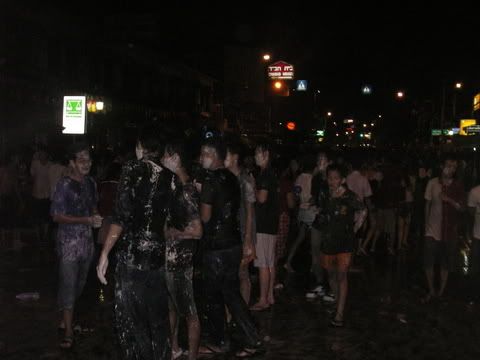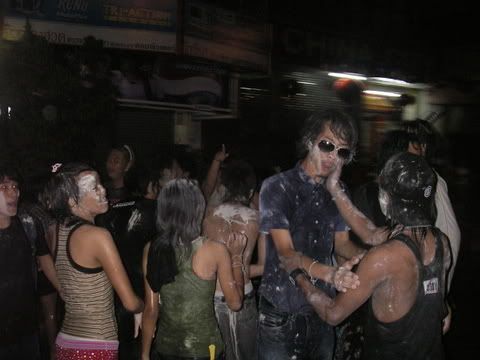 ALAMAK! No wonder Taxi doesn't wanna bring us here coz of heavy traffic jam due to Songkran festival.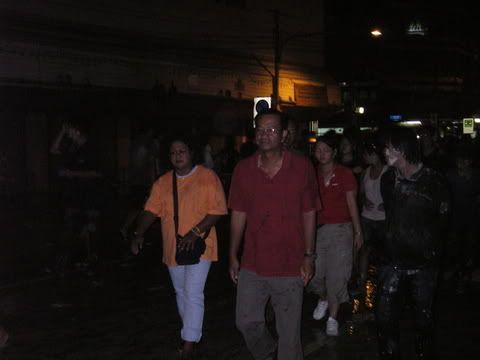 Longkang Gang Party together with the locals! LKG Boleh!!!


That's the end of LKG's adventure in Thailand. Hope you guys enjoy reading.

Cheers and Happy Fishing!


Written by Jeymatt