Report by: Thakin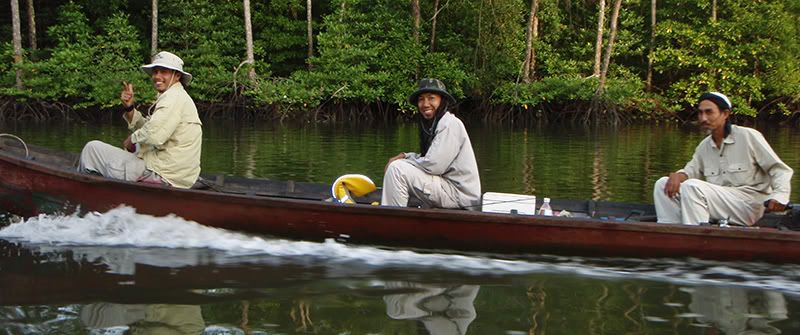 Yesterday, there was a trip to Trong. This date was set by Nasir himself, the famous guide in this part of the country. He chose this date as he liked to fish the incoming tide at 3-4pm. From his experience, this kind of tidal movement provides the best kind of fishing conditions for lure users.
There were 5 anglers plus Nasir; Dolah, Takin and Jackpot on one boat, while Nasir, Defender and Keown crewed the second. As usual, there was the early wakeup calls and the sleepy drive before arriving in Trong at about 7.30am. Without much ado, the boats left the jetty and headed for the designated hotspots.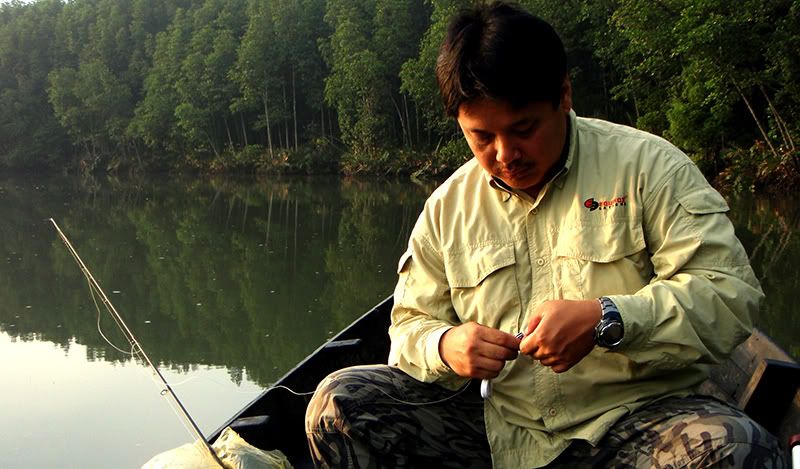 On the way out, there seemed to be a lot of freshwater in the mangrove channels. The night before had seen heavy rain; and there was that stillness usually associated with a recent downpour in the air. Tarpon rises that used to be everywhere were nowhere to be seen. This created a sense of uneasiness; what was the fishing going to be like today?
The regular casting spots failed to produce, and not for want of trying. The lack of action mirrored the still atmosphere described earlier. The tide by now was receding; this tidal movement usually produced some action during our previous trips, but this time it left only sore casting arms and a growing sense of trepidation!
Further down the channel towards the mangroves were a bit more kind. Both boats managed to land some barracudas, and the odd catfish. But these were few and far in between. There was also turbid runoffs from the small streams feeding the main mangrove channels; more evidence of the heavy rains the night before. A detour off the main channel and to go after a group of tarpon feeding off an inlet provided some respite from the boredom. They were very finicky, and proved difficult to target with heavy MJ gear. After about 30 minutes and a few tarpon later, it was back to the main channel.


The heat didn't help with our mood at all, and the lean run continued till well into midday. Nasir's advice was to go out to the main channel nearest to the sea and wait to fish the incoming tide at about 3pm. In the meantime, there was nothing else to do but wait. A few moments of shut-eye helped somewhat. Later, as we prepared to get underway, Jackpot had a surface strike that narrowly missed his lure. I had fed the gathering baitfish around the boat with leftovers from lunch, and I think the increased activity had attracted something bigger to the boat !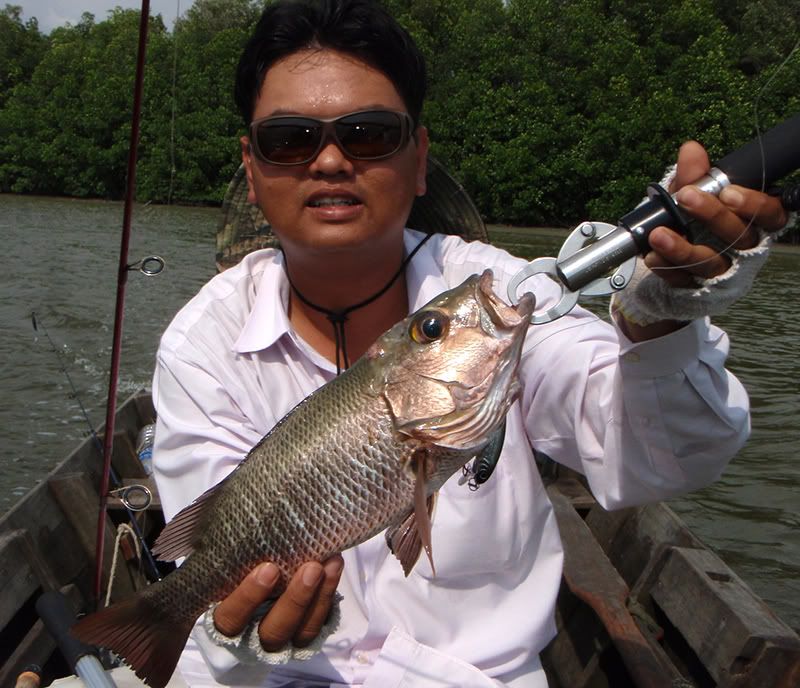 The fishing started again in earnest at around 3 pm; this was when the tide began it's push upstream. This time, there was action within 30 minutes; Jackpot struck his first MJ on an natural coloured Abu Tormentor. The fish was extracted from a fallen mangrove tree which had drifted well away from the banks in the middle of the channel. It was just becoming submerged by the incoming tide, and the MJ obviously decided it made an ideal stop on its way upstream. We congratulated ourselves for the effort to investigate this lone structure in the middle of the channel. It was a school-sized fish, we suspected there could have been more with this specimen. Unfortunately, we had drifted too close when Jackpot was fighting his fish; it certainly spooked any other MJs which might have been hanging aound that particular snag.


The other boat also had strikes, more catfish and a solitary estuary cod that was landed and released by Keown.


Both boats then went further upstream; Nasir then landed a good sized specimen on his garfish casting bait. Dolah then missed a barramundi which missed his lure by inches while casting near the same snags.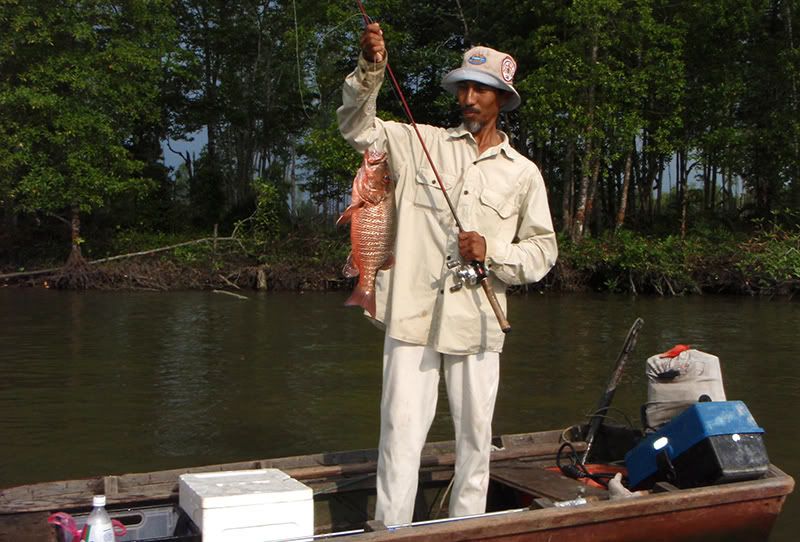 How the fish would suddenly feed aggressively during the incoming tide was becoming evident. Dolah then landed another school sized MJ in another hotspot. The lure taken was a Rapala X-Rap SB 10cm in blue colour. I made a follow on cast; the lure was struck but failed to hook up. Jackpot then had a huge strike that lasted a few seconds before the fish threw the hooks. It had opened up his 2x Owner trebles on his Abu Tormentor! Unfortunately, our anchor had pulled and we had drifted OVER the fish holding snag. This is NO-NO as this would mean we would have to leave the spot for sometime before it would produce again.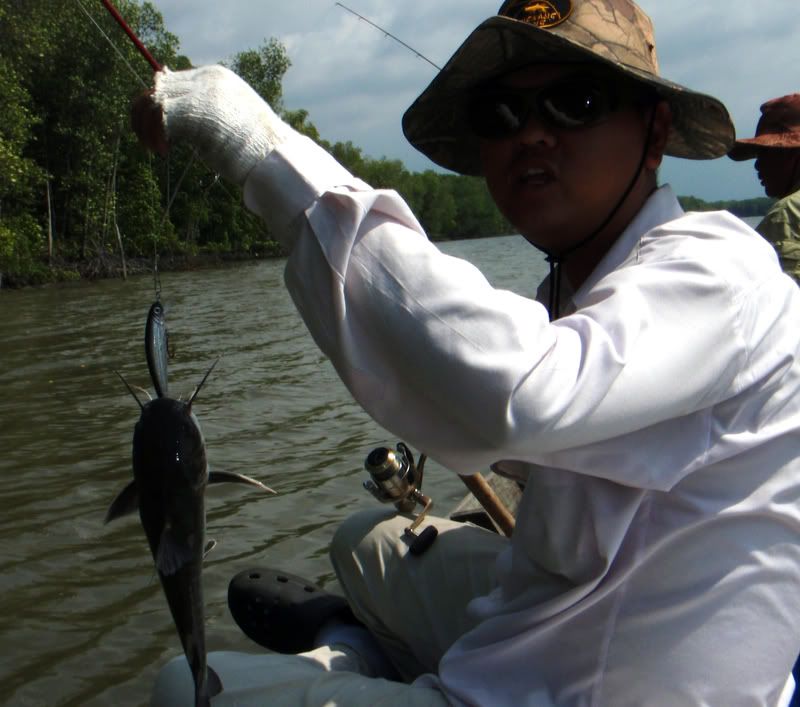 Nasir told this to us in no uncertain terms; we had waited for hours and the chance was somewhat wasted. By this time, time was not on our side as it was already 5pm. We only had 2 more hours to dark and there were still some hotspots we wanted to try.
Defender then landed another school sized MJ, bringing the total MJs for the day to 4.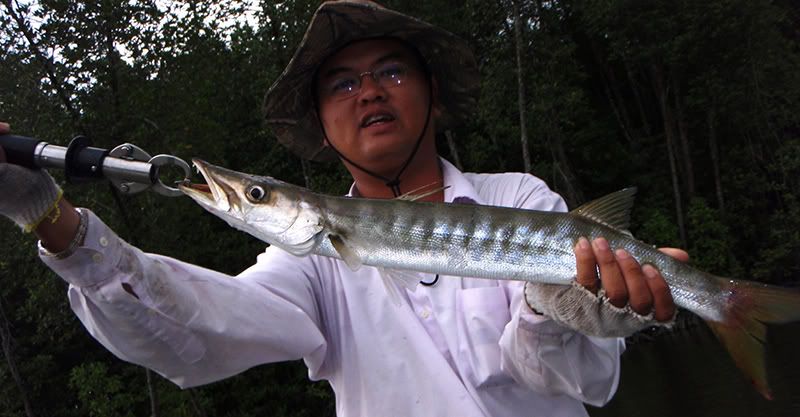 Our last stop saw us at the "Surecatch Corner" so coined by Nasir as it rarely fails to produce. And so it proved. My first cast was struck but again no hook up, the next cast by Dolah resulted in a 1.4kg specimen which was the biggest of the trip. Unfortunately, for the second time, our boat had drifted over the snags, and this resulted in the fish again being spooked. Nasir's boat had by then had struck and lost a few barracudas, including one which we had estimated to be around 3 kgs!


Dolah then lost his favoured X-Rap to another barracuda, calling time on yet another natural coloured lure in the waters of Trong !