Report by Takin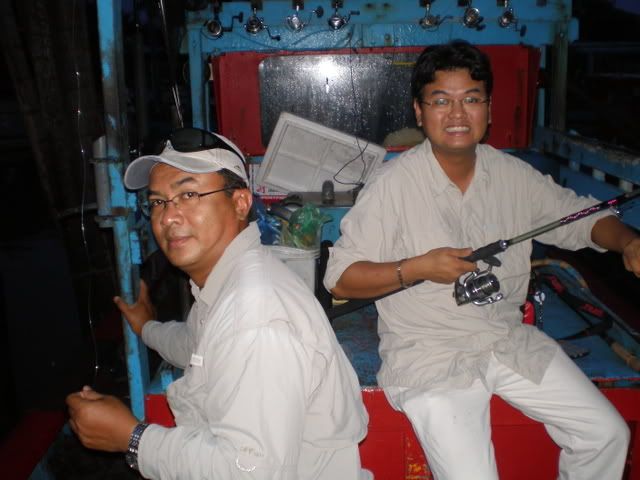 On the 15th of May, some intrepid LKGers decided to test the waters of Yan for tenggiri. This motley group was made up of the infamous Two-Lans (Lannun, Lansi), Dolah, Jackpot and yours truly. This time of the year is the back end of the tenggiri season, but of late there was news of certain trips out of Dulang registering catches of 10 specimens or more. This is a strong indication that the fish are still around in big numbers; maybe their extended stay is a result of the of the quirky weather conditions. If I remember correctly, the beginning of the tenggiri season this year started late, so an extended tail end of the season is good news for anglers born and bred on the tuas action.




We went in two cars, Lan's and mine. An early start which is the norm brought us to the Dulang jetty by 6.30pm. After having a leisurely breakfast, we boarded the boat with our supplies (I really like the nasi lemak bungkus and the bihun goreng at the jetty stall). On weekends, it is quite often for the food at the nearby stall to be finished. Latecomers would have to travel out of Dulang for their food, but today was a weekday, so there were not that many boats headed out to sea. As before, we were on Kri's boat and this time Pak Ayub was joined by another boathand called Razak. These two are a regular crew on the boat.


The seas were rather rough as we headed out, this certainly caused concern especially for Dolah. On a previous trip, he had been beset by mal-de-mer and that was enough to make him vow not to make another Tuas trip (until now – let's see – that vow lasted about a few months !) But as the morning wore on, the waters calmed. There was some ominous looking storm clouds on the horizon, but the boatman determined that they were going to miss our boat by moving north. And so it did. The clouds dumped their prodigious cargo on the seas around Pulau Bunting and left us with wonderful weather and calm seas. This is more like it, now to see if the fish would play ball !


Unlike the previous trip when I left my sabiki jigs at home, there was enough to use for a few trips! But then we found that boreks (Rastrelliger Kanagurta) were hard to come by. Only selars were coming up on the jigs, and this was not good. We did keep some bait sized selar as livebaits while the bigger ones ended up on ice. They would make good tauchu dishes and Lansi was already salivating. We had some dead baits, termenung (Rastrelliger Brachysoma) bought from the Pulau Betong jetty but unfortunately, on that day I bought them, there were so many termenung that the boatmen simply did not bother with proper icing of their catches. The fish were most probably going to end up processed or as feed rather than sold for food, and they dispensed with the ice. That made them soft and unsuitable for tenggiri casting.



We headed out to Kri's tuas and everyone began doing their thing. The water was deep blue and crystal clear, and I had some concerns that the fish would be spooky and difficult to deceive. Dolah wanted to try casting lures and we all joined him; when the water is crystal clear, the low light conditions would normally be the only time the fish could be fooled into taking artificials. We saw many willing takers but no solid hookups. Many were banangs (longtoms – Tylosorus Crocodilus) and were considered pests in moe ways than one. Consider yourself lucky if they do not take home your precious lure! A few specimens even contrived to hit our live baits meant for tenggiri, and made short work of our limited live bait supply. Dolah did stay attached to a big fish that we suspected to be a sizable GT on a Rattlin Rap in Chrome Blue (this seems to be a favourite colour for sea fishing wherever it may be), but the fish got entangled in a handline and was soon lost. Unfortunately for me, a banang took home my battle scarred Abu Hammer spoon which had been so productive in Pulau Sembilan, while Dolah lost the abovementioned Rattlin Rap. Both lures are discontinued, and are hard to find!


The boatman did manage to land a few talang (Queenfish – Scomberoides Commersonianus) around the kilo mark which was fooled by "bulu" – white colured duck's feather or hackles rigged with a hook and retrieved erratically. They told us that the day before had yielded them many talangs on this method. Today, there seemed to be fewer around, but they certainly made up for their lack in number with much bigger sizes.



We also had some talang take our live baits, and these acrobatic pelagics were a welcome adversary on our light tackle. Using a 30lb set meant for light trolling and bottom bouncing, I let out a live selar on a dropper rig tied to 1 metre leader and was hit almost immediately. But the brute force of the take was such that the 50lb leader broke instantly! The boatman saw this and advised me to set an even lighter drag and let the fish take the line. I rigged another leader, hooked another selar and set the bait at depth I was hit earlier. As I was asking him to see if my drag was set lightly enough, a fish hit the selar and I was on ! The fish was definitely a talang and after a few anxious moments, was safely landed via a landing net. The handsome specimen was approximately 2.5kg and would have been a great adversary on lighter gear. Another live bait set then attracted the attention of a 2 foot long barracuda; the take was soft and the fish simply remained stationary. When I set the hook, the fish ran to the surface within visual distance. I could see the line and not the hook and sure enough the line was sliced right in front of my eyes give the fish its freedom. A short while later, there was a double hook up, my live bait setup was hit at the same time a talang hit the "bulu" that the tekong was retrieving. Both were sizable specimens, and my 50lb leader was broken again. The tekong lost his fish as the hooks pulled mid water. There seemed to be a lot of large talangs in this tuas ! Hmmmmm…. I wonder what flies could do; after all talangs are suckers for bilis patterns! Maybe some of the keen fly-fishers might want to take up the challenge next time.



At this tuas, the boatman began deploying some handlines rigged with fresh squid for kerapu (Epinephelus Coioides) – greasy grouper or estuary cod. They used large handlines and ratan rods of about a feet in length. One end was stuck into rudimentary rod holders on the gunwale and the baited line was tied to the other end. A small fishing bell rounded out the gear. For this trip, we had 3 strikes, and only 1 fish of about 1 kg was landed. The kerapu simply took the bait and went straight into its lair, snagging us up. This fish was forcefully manhandled by the boatmen and dragged out of its hiding place unceremoniously to later grace our get together dinner. We suspected the other specimens that got away to be bigger, as the take was more violent than the one landed. They snagged us up pretty good, and that was that. A bell going off was certainly the perfect adrenaline rush, and it was interesting to see the boatmen drop everything they are doing and scramble for the set lines. They have to be quick in order to try to keep the fish from snagging up the line too badly. This kerapu season, the biggest they had landed so far was an 18kg specimen; their all time record was a respectable 27kg! Oh well, maybe next time we will get to land the bigger ones…..



At this time there were several of us already at the back casting lures or termenung for tenggiri. Suddenly there was a commotion at the back; it was Jackpot hooked up to a tenggiri on his Cherrywood ! We were cheering him on, but with some concern, the last time we saw him in this situation, he lost his fish boatside. The fish was safely landed after a short fight, and Jackpot had finally managed to get the tenggiri monkey off his back ! Well done ! The size was nothing to shout about but we have a tenggiri on the scoreboard.




The tenggiri and GTs were feeding just outside the tuas, and schools of nervous baitfish were exploding on the surface every now and then. Lannun then had a take on his dead termenung and after a spirited fight, this biiger tenggiri was landed as well. After a lull of a few minutes, it was the turn of Razak to register a hit on his termenung. This was a better sized specimen and the fight lasted a bit longer. In a span of about 30 minutes, we had had 3 tenggiri landed. Things were looking up !


A short while later, a handline baited with a live selar was hit mid water. After a short but savage fight, a handsome, thick set GT (Caranx Ignobilis) was landed. During our lure casting session, we could see GTs milling around and chasing our lures but they were spooky and refused to take our offerings. The water was clear enough for us to make out schools of talang cruising in midwater and a host of other tuas species. We also spotted a huge school of termenung (R. Brachysoma) feeding; in this mood they simply ignored sabiki rigs.




By late afternoon there was little action; we decided to drop some baited sabiki jigs over the side and see what came up. We were pleasantly surprised when we pulled up some kedarang – fusiliers (Caesio spp) and berangan (Pinjalo pinjalo). The whole group got in on the act and before long we had a sizable number of these delectable fishes on ice. We also landed some pelata bali (Pseudocaranx dentex) , and I was once again surprised by a frisky talang that just did not know when to give up….. A few exhilirating runs later, Jackpot slid a net under a well-conditioned carangid!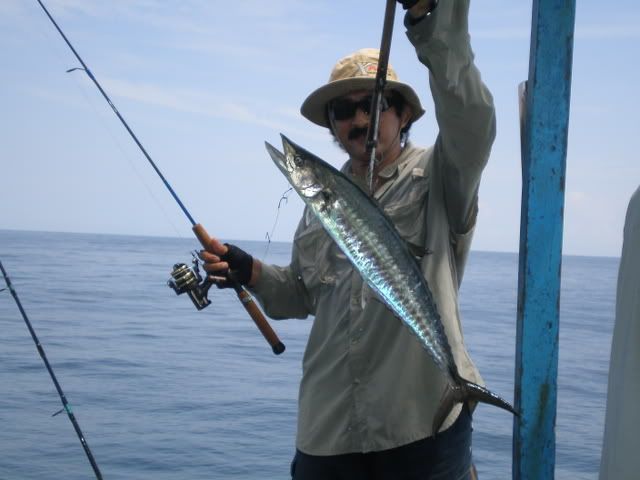 The bite lasted a few hours and after landing a mixed bag we decided to call it a day. Although the tenggiri action was limited, this tuas provided us with alternative quarry that we always had something to target. All in all we had a relatively productive outing. A surprise was in store for us at the Dulang jetty though when we discovered that a boat had landed 30 plus tenggiri from another tuas! Another trip is in the offing then…… wait for the story !