Teks by: Takin

The 1 st May was not simply a day off, it has and always been an opportunity to fish.! Akashah, his wife Rina and Defender had made arrangements to go to Pulau Sembilan and required two more participants to make up the quorum. So Dolah and I made up the numbers and arrangements were quickly made.



We left Dolah's place the night before the day of the trip to Lumut, meeting Akashah and his better half at the air-conditioned steel cabins the operators have prepared for their clients. After giving our tackle a serious going thorough we turned in at around 2am after supper. Changing of split rings, trebles, retying of FGs took us almost 2 hours as we brought quite a number of sets just in case. Tidal conditions and the location of their jetty which is quite far inland conspired to create a situation where we had to leave the jetty at 4-5am as the tide receded or wait for the incoming tide at 9am to make our way out to sea. This was further compounded by the fact that the boatman told us that we would have to be back by 4pm or risk being stranded by the outgoing tide. This shortened our fishing window considerably, and we consoled ourselves by sympathising with those who actually had to work that day, while we went fishing ! As we needed the rest, we reluctantly decided on a 9am start despite the shrotfalls of such an arrangement.

At the jetty the next morning, we encountered some commercial fishermen bringing back some of their catches. Some had used the normal gill nets and brought back a whole host of typical fare. But the ones who caught our attention were a bunch who fished for quality fish on rods and hand lines! We were stunned by the size of jenahak they caught. We saw at least 10 specimens weighing from 1.5kg to 6kg+ that was weighed and sold near our cabins. It seemed that when the tide is right and the weather good, fishermen would go out at night using live squid specifically to target these fish. There were also some big sting-rays, a medium one weighed for sale was about 8kg. And there were several specimens much bigger than that! I t certainly made us think about the type of fishing available in these waters apart from lurecasting for pelagics.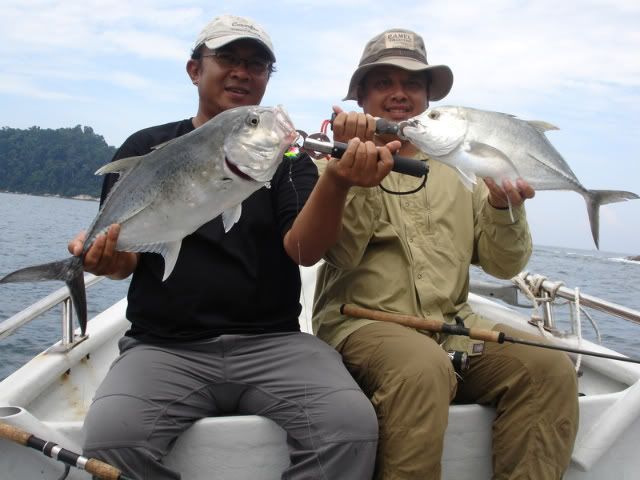 After buying the requisite supplies from nearby breakfast stalls, we pushed off for the islands. Defender had arrived in the morning, and had quickly stowed his gear on the boat. I was quite surprised to find out that he had never been on a casting trip to Pulau Sembilan. After all, he was a hardcore caster who hails from the area. To attest to his prowess, just the week before he had landed a 2.9kg siakap putih in Trong while fishing alone ! This type of dedication is something that is hard to find let alone fathom. How many of us would fish alone on trips like that?

We were blessed with fine weather and calm seas, although we expected the day to be hot. The water was blue enough to do justice to the term "the deep blue sea". We reached the islands at about 10am, and started the day casting for cencaru at Pulau Batu Putih. There were several boats already there, with the attendant birds broadcasting the presence of baitfish on the surface. We saw longtoms and cencarus attacking them on the surface, but unlike the previous trip we could not entice them to strike. Our failure to hookup any were mirrored by the other boats. According to the boatman, the erratic movement of the fish made it difficult us to approach them. In our previous trip, the schools were gathering further away from Batu Putih, and were more predictable in their movement. This made it a real option for us to use light spoons and feathers. All we had to do was move up current and slowly drifted towards their position.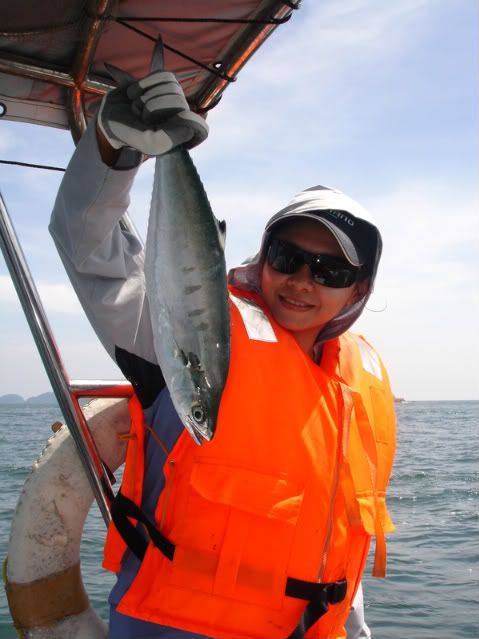 After about an hour, we decided to go in search of more amenable species. The water current was medium, which made it very pleasant for any type of fishing. The first few stops only produced the dreaded longtoms. They were willing takers of lures and were entertaining at first, but only if they did not take back any of our precious lures. Rina landed a decent sized longtom on Rapala Vibrax and marked that specimen as her first Pulau Sembilan fish. Similar results followed for everyone; while I managed to up the ante a bit by hooking and a losing a smallish queenfish (talang). The fish hit the silver 14g Altima and raced back towards the boat. I frantically reeled in the line but as soon as the line was taut, it jumped and performed a perfect aerial cartwheel to throw the hooks. A well done was a deserved reaction to the antics of that fish !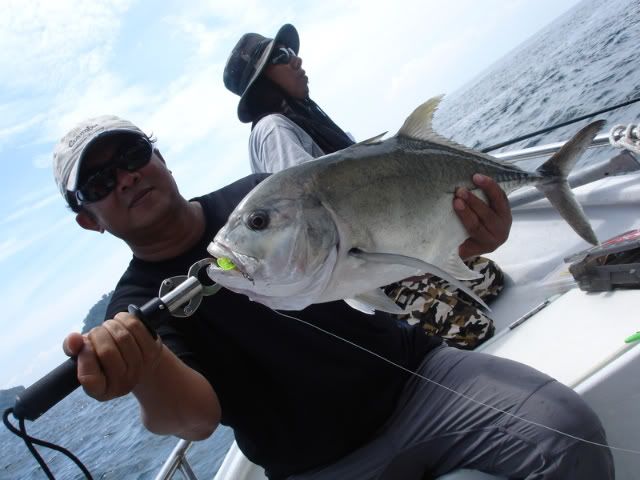 Between the absence of sizable quarry and the abundance of longtoms, I was not sure which sapped our strength more. At around 10.30am, we neared another one of those fishy looking bays that characterises so many of these islands' shores. I think the fishy appearance of these locations is the reason we found the strength to carry on casting! This bay was calmer as compared to some of the others we had fished. Immediately Dolah was hooked up on a Rattlin Fat Rap RFR-5 CHB (Chrome Blue) … and in a blink of an eye, I felt a take on my trusty Altima. Double hook up! But there was no blistering run that we have come to expect from a GT! And judging from the bend of the rods, these were not small ones either.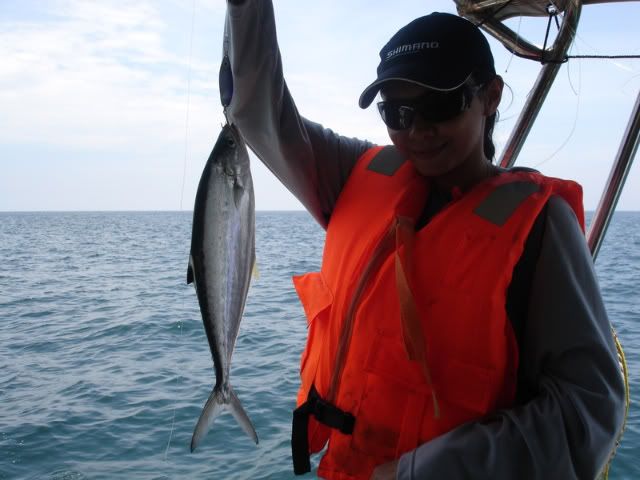 Initially I was horrified to see my line being pulled downwards and towards the boat. I reeled as quickly as I could and as soon as the line came taut, the unmistakable power of a heads-down GT and the rythmic tail beats began chorusing through the line. Incidentally I was equipped with a Daiwa Exist 3012 spooled with 20lb Stren braid in green tipped with 40lb Vanish fluoro. My rod was a 6-15 lb Techna AV 1 pc and the power of the GT was beautifully translated into a full fighting curve which brought out the best in the rod. I think I am beginning to like the 1 pc rod characteristics despite the obvious inconvenience associated with it. Dolah was using a Daiwa Caldia Kix 2500 similarly loaded with 20lb Stren braid in green and 40lb Vanish fluoro. The matching Eagle GT rod was similarly tested as both fish fought on doggedly underneath the boat. As both fish had adopted the same posture in the fight, for a while it looked like we were fighting the same fish. But I knew there were 2 fish as during the initial take my line was pulled in a different direction than Dolah's.


The fish had actually managed to cross our lines as we were not able to keep them apart; fortunately for us this happened well into the fight and both specimens had nothing left in to take advantage of the situation. Both fish were duly netted (both at once!) the compulsory photos followed. Both were healthy specimens of tackle busting, heart stopping package of piscatorial terror! My fish weighed 5.5lbs while Dolah's had another half a pound on it. A quick release followed and we were on the scoreboard.


Later decided to take a rest as the rest of the day unfolded. Instead I simply tied FGs, ate, drank and made merry as the pressure was off. I had also wanted the foredeck to be clear for others to break their duck. Dolah continued casting, as he was very enamoured of his setup and the RFR-5. There were many instances where we could see fish racing after the lures but turned at the last moment to derive the bunch of us hopping mad. Once, a barracuda about a metre long followed a lure right up to the boat before disappearing underneath it. Not before favouring us with a view of its' huge chevron marked flanks !


A few half hearted follows by GTs and many full blooded strikes from longtoms later, Dolah had another follow by a smallish GT which did the now familiar about turn in full view of the boat. No one took it seriously as it had happened too many times before. The only difference this time was that on his next cast to that spot, the RFR-5 was monstered big time by a good specimen. A few good runs later, and with his tackle holding together, I slid the landing net under the GT (a tight fit!) and brought aboard the largest GT that I had personally ever seen landed on a typical Pulau Sembilan trip. At 8lbs on the boga, it translated to a shade under 3.7kgs. The fish had swallowed the lure whole, but somehow the hooks had missed the vital parts and was removed after some effort. The fish was very weak due to handling pressure and time out of the water, but after some determined effort to revive it, this fish swam off to fight another day.


I continued on the light and easy mode, while the rest kept up their effort – Rina then landed a good sized talang pandan which was well over 600g, her second specie in the waters of Pulau Sembilan. She was proving able to withstand the heat and showed no sign of seasickness and was showing someone how to fish !


Dolah then changed to a Surecatch popper which I must say did not pop very well. It must have been the heavier hooks that we had used; but it turned into a very attractive pencil bait when constantly retrieved. Te heavier hooks also improved the casting distance. On one such cast, the popper was taken right after landing by another GT. By this time, Akashah and Defender were gnashing their teeth as their non-stop efforts had still come up to naught while Dolah was hooking them up one after another. Actually, from a spectator's point of view, I could not see anything that they could have done to improve their chances. This GT was also safely landed, a handsome specimen of about 5.5lbs. This fish also lived to fight another day. By this time the tide was already full and was about to turn. This usually brought a decline in fishing activity and so it proved.


My rest period was beginning to bore me so I decided to do some sabiki jigging. My position enabled me to keep an eye on the sonar, and I was excited by the amount of corals and fishes showing up on the sounder. My jigs were constantly taken by small fishes, from coral ooglies to small groupers. I made it a point to try this method next time and to come better prepared. I didn't have a heavy enough sinker and a correspondingly heavy gear. It seemed there was a myriad of fish stacked under the boat at any given time. At this time Rina had hooked and landed another talang pandan.



The only species I had hooked of any size was a talang pandan, a cencaru which managed to throw the jig near the boat and a grouper of about 200g which took an Altima spoon which I had dropped mid-water. A school of medium sized fish had showed up on the sonar at 20+ feet and out of curiosity, I dropped it to that depth. The take was immediate; I was wondering what the grouper was doing there as the seabed was at 40 feet !


At this time we were fishing at the small rocky islands which happened to be on our way back to the jetty. The place looked fishy but the only action we encountered was when Defender had a hookup to a GT which hit, swam non-stop and was rewarded with his 15g Halco twister. Still it was quite an experience for the first timer. In fact, he has pencilled himself in for our next trip !


A while later it was time to go back, and we reached the jetty at about 4.20pm. it was an early end to our trip as we typically return at 6-7pm.

Observation

1) Plan your trip carefully to maximise fishing time. Tides may dictate departure and return times so be aware to avoid disappointment!

2) We observed that most of our takes occurred during the incoming tide. The outgoing tide was more quiet although not quite devoid of any action

3) Arriving early and sleeping over is recommended, it would give anglers much needed rest and an early fishing start. If necessary, anglers can also sleep after the trip and drive home the NEXT morning. Safer that way.