Date: 19-20 May 2007
Venue: Banding Lake
Anglers: Tiger2my, Ayaak, and Ferd


Article Report by Tiger2my






Last weekend, 19 - 20 June went with ayaak to banding, invited several lkg gang to go but non responded. So ayaak got a BM forummer Ferd to join us. Purpose to go there was to check on the boathouse. As usual ayaak will have some nitty gritty things to do.Friday nite 11 pm started from ayaak's place drove towards Kuala Ketil to pick up Ferd suprisingly, I found the distance to banding shorter by using this route. Anyway we arrived about 2.30 am after all the usual stops got to the boathouse prepare the rigs and went to sleep by 4.30 am. 7.oo am woke up, well a little bit late. The 2 others were still dreaming and I have to jolt them up. No drinks, no coffee no breakfast we were on our way to fish the nothern area. This time ayaak took us to this area call the Golden Hope, well I thought lets hope my hope will be golden. Arrived at the first lubuk after a few casts ayaak strike gold. One after another he lead by 3 to me 0 and ferd O. Then Ferd close in on him but yours truly was still lagging behind until that brown tiger came to the rescue with 2 sebaraus. Time to change lure none other than the altima. Strike another 2 sebs with it and a toman. Total score for the morning, Ayaak strike 7 sebs broke 1 toman, Ferd 4 sebs, t2my with 7 sebs and 1 toman.
Time for lunch went back to the island cafe had the usual ayam goreng, telog dadar and curry ikan. They smoke had tea tarik then went to toilet. Headed back to the boathouse, time to put a little work to the boat house. 5 minute after landing at the boathouse ayaak landed into the land of dreams. Well what to do Ferd and I followed suite. 4.10 pm woke up back to hardwork...well this is life. Continued at the Golden Hope but without much success as the morning. Sun is setting fast ayaak took to the bays off Sg Gadong, no success here either. Now timing is crucial the sun getting lower off we went towards toman hotel. Timing perfect kelekatu beggining to come out. Sebs can be seen splashing here and there. We managed to raise our score of sebs to ayaak scored 3, Ferd 4 and t2my 4 (???). No more lights even though spalshing could be heard. Took 2 good eating size sebs for dinner. Actually it was only 1 but Ferd catch was severely injured and could not be revived so into the kuali it went. So we had sebarau goreng for dinner...yummy yummmy...hehehhe.(itu la Khoo apasal tak mau ikut)
Keown was planning to be up early the next day to cathch the early sebs so we hit the sack early before 11 I think but sleep came fitfully maybe due to the anticipated catch tommorrow or maybe because of the bobbing of the boathouse everytime a boat passed by we have this swaying and bobbing action it was a kind of high too, hheheh. As usual I was the first one up before 6, quite early but what to do it has been a habit at this moment in time. Glanced at the 2 sleeping beauties, very peaceful they were. Well decided to brush my teeth and give myself a shave, this time I brought along my battery operated shaver. On the light and searched for the ration box. Measured 3 mugs of water and put it to boil on the mini stove. Made 3 mugs of instant cafee and woke the beauties up, as always keown needed a little more proding before he was truly consious but the good thing about it was that he dont mess around wasting time when up..just brush his teeth washed his face then jumped into the boat and off we went.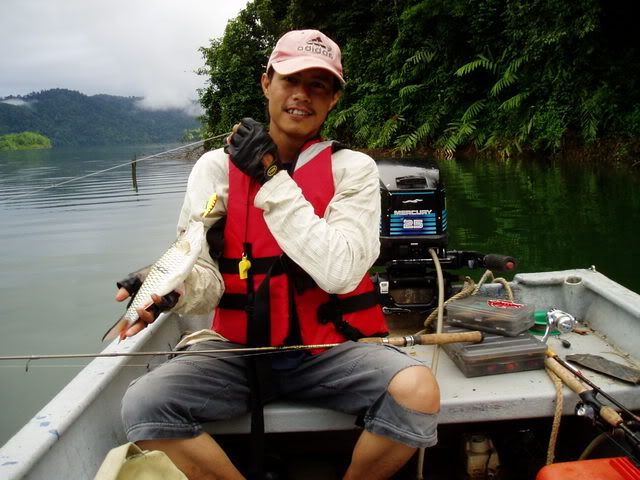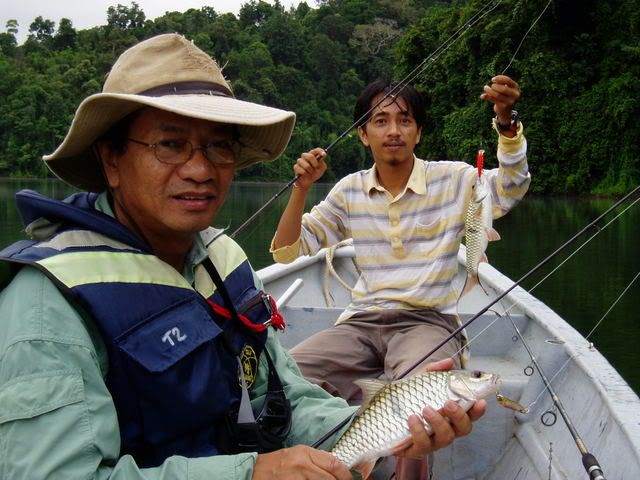 About 7.15 we were onto the first lubuk the island before the right turn to the Golden Hope. A good choice by keown. No action on the water whatsoever but ayakk said try. First off was Ferd but sorry his casting needs more polishing...hahah. Still only after his 2 nd cast he was on with the first seb of the day... a good size one for the table. Keown was still watching and I was still on 0 after several cast. Ferd was again on for his 2nd fish of the morning on the only lure SSR Hottiger but not for long again my brown tiger TD came to the rescue to play catch up with Ferd, I leveled with ferd just in a short while, while keown was still way way behind. I changed lure to Xrap shiny red/orange combo with a little "fly" on the tail hook. First cast out.....after just a turn of the handle..wham another seb to account for. Now score 3, Ferd 2 and keown still nought. We were drifting with the wind and current. Ferd was on again then to his relief keown strike 1 from the back of the boat. No action after that. So the next best thing was to circumnavigate the island. No action but when the boat reached our original starting point keown strike gold again and Fern was onto his 4 fish of the morning..this young man was hot that morning. That was the last one from that spot so onto the next lubuk keown directed the KD Longkang. Just on grassy patch at the edge of a promongotory, the boat in drifting mode keown casted, strike 2 for him and aother one for the young man. I tried berkely grub white no takers just a nudge that was it. Sun was high now but lucky there were cloud covers. From his perch keown casted towards a grassy patch, retrived halfway towards the boat his reel gave a loud screech, toman I shouted but no bubbles were seen. Keown had a difficult moment to control it, the envitable happened...the fish took a dive into some sunken rotten vegetation a few seconds of struggle then the line went limp as was the person holding the end of the line. No big fish landed, no bubbles seen what was it? A badung??

(Penaat la rest sat... to be continued...the monster...hehehhe)